Covid-19 ~ Womb & Fertility Support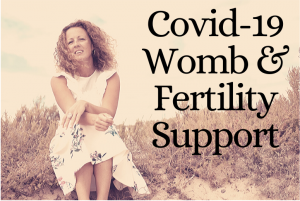 During this time, your fertility treatment and plans will have been changed; leaving you perhaps quite fearful, angry, sad, vulnerable, ungrounded and unsure as to what the future holds.
We are all human, and it is OK to have those feelings – in fact, if we didn't, we would only be pretending and by not allowing our truth to surface, would cause health issues down the line.
I too crumbled initially, I took time out from social media, from life in general really, to embrace mine, and my family's feelings. I still have days that are up and down, but I feel ready to emerge into the world a little more and do what I love the most, which is nurturing and supporting Women!
Over the next few weeks I will be creating some further free video content, taking part in free online web events and creating online workshops.
Womb & Fertility Support – Resources
You can access the resources here:
If you would be interested in receiving information as I update new resources, please subscribe below.
I look forward to hearing from you, discovering what YOUR needs are during this time and finding a way that I can support you.
**As I am having a technology issue, please type in your email and press enter**