Tricia O'Donovan
County Cork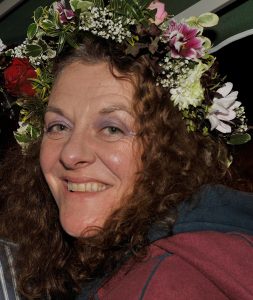 I had the pleasure of attending a 4 day workshop with Clare Blake of Fertility Massage UK, in November, 2015.
This Course was like an awakening inside of me, to ancient massage techniques that I had in my pschye, experienced and performed before…..I was home.
I was where I needed to be, to help Women and Men experience a journey back to the womb, to feel nurtured and safe, cared for and now they can relax, be calm, and breathe.
I love this massage so much, I love the rhythm, the dance with the Rebozos (Mexican scarves), the wrapping up which transports you to an environment of complete calmness, in a safe, caring space.
These very unique experiences clients have each and every time.
The Transformations, the Phoenix arising from the ashes, the light bulb moments, the deep breath where sleep engulfs you and you completely re-energise.
The trust, the bond that is formed, the understanding you will be cared for in the very best way possible.
To enhance this wonderful massage I also bring a tool box of other modalities.
Sports Massage, where I can look at your spinal alignment and check for any other postural Misalignments.
Aromatherapy, where I can blend a personal oil blend, perfected for you that will work its own magic. It can also be used in self-care massage, and healing aromatherapy Epsom salts relaxing bath mixes.
Holistic Therapy, Lymphatic Drainage, Hot Stone Massage, Lomi Lomi and Indian Head Massage.
Fertility, Facial, Cranial Sacral Reflexology.
Master of Reiki, I.E.T. (Integrated Energy Therapy)
Moon Mother Womb Blessing.
Crystal Healing.
Maternity and Baby Reflexology.
 Looking forward to meeting you…..
Contact Tricia email    m:(087) 6471609