Nat Love
Natalie is an intuitive Womb Priestess & Spirit Keeper of the Great Womb.
She is a Womb Awakening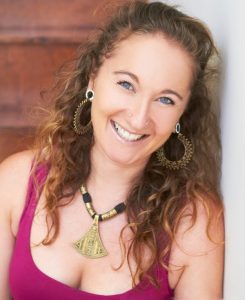 Teacher Trainer for The Fountain Of Life, a Master Clinical Hypnotherapist, Master NLP Practitioner, Life Coach and holds a Diploma in Modern Psychology.  Natalie is also a Kahuna Therapist, Chi Nei Tsang therapist and specialises in Shamanic Healing and journeying in which she has been practicing for 20 years, along with many other healing modalities that create profound change at the level of the unconscious mind.
Natalie spent 17 years traveling around the world devoting herself to learning from various Shamanic Tribes and Elders. Her journeys have taken her to the most remote places on earth. She has studied for many years with Nagual "Lujan Matus" & spent time in the Sierra Nevada De Santa Marta, Colombia with the Kogi and Arhuacos Indians. She has studied yoga & meditation in the Indian Himalayas for 7 years & lived amongst the nomads of Tibet and Mongolia. Natalie is a Shamanic Priestess whom is dedicated to her path and in remembering the Sacred Mysteries. She works in depth with women whom have suffered through all types of absue, trauma and fertility issues and is a direct guide to Feminine Empowerment. Devoted to guiding women and men in their spiritual growth, healing & awakening the magic of the feminine dimension within, and helping to unite the masculine and feminine into sacred union. Natalie has a gift in aligning people with their supreme version of life and unraveling their limitations, blockages, and deep core wounds from their past and ancestral lineage.
Natalie lives in Gold Coast Australia with her beloved husband and 2 beautiful beloved children whom she is a devoted mother to, She also offers Womb Healing Sessions, Skype Sessions, Hypnotherapy sessions, NLP, Life Coaching, Past Life Regression, Energetic Transmissions, Tibetan Womb Pulsing Classes, & holds Teacher Training Retreats, workshops & Womb Circles in the Gold Coast, Australia and throughout Asia. Feel free to contact Natalie or for more information please view Natalie's websites: