Course Locations
If you would like to arrange a course in your area or country, please do contact me to arrange as I am happy to travel.
For Course Dates, Venues, Fees & Bookings, please visit the course venue of your choice
Course Timings
10am to 5pm each day ~ Arrival 9.30/9.45am   (unless stated otherwise)
Course Investment – UK based courses
If you already hold Bodywork Qualifications including Anatomy & Physiology: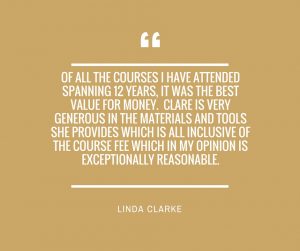 Full Fee £850 or  Early Bird is £750 – when booked & fully paid 3 months prior to the course.
Non Early Bird Full Payment due 6 weeks prior to the course.
Credit & Debit card payments now accepted
Instalment Payment Plans
Payment Plans are available, please feel free to email Clare, as we are always happy to be flexible to help you!
Pre-Requisites
We are delighted to be able to open this course to ANY WOMAN who feels the call to do this work, regardless of prior experience or qualifications.
To gain insurance and be accredited, you are required to have the following qualifications either as stand alone or as part of a BodyWork/Complementary Quailfication:
NVQ Level 3 Anatomy, Physiology & Pathology
NVQ Level 3 Business & Management
NVQ Level 3 Health & Safety
If you do not have prior body work or complementary qualifications or any of ethnic above modules, you will be required to complete the additional modules to gain full accreditation and insurance. These modules are hosted by Think Tree Hub, an international professional association.
*The fees for the additional modules are separate to the Womb & Fertility Massage Course fees*
You can view further details on the course modules, fees and process here
NON UK COURSE INVESTMENT:
Please visit the webpage for each venue outside of the UK for the course fee.
Course Fee Inclusions
4 Day Intensive Course
Practitioner DVD
Practitioner Listing on website
Access to Private Facebook Forum for invaluable ongoing support
Certification Process
Comprehensive Course E-Book, Theory Handouts and Videos
Resources Page with visualisations, self help programme, e-books, articles and more
Email/Telephone contact with Clare
 ** There are no membership fees
Participant Numbers
A minimum of 6 participants is required to host a course. Where the participants numbers are lower – the host will offer a full refund or transfer to another course venue or date.