2018 Schedule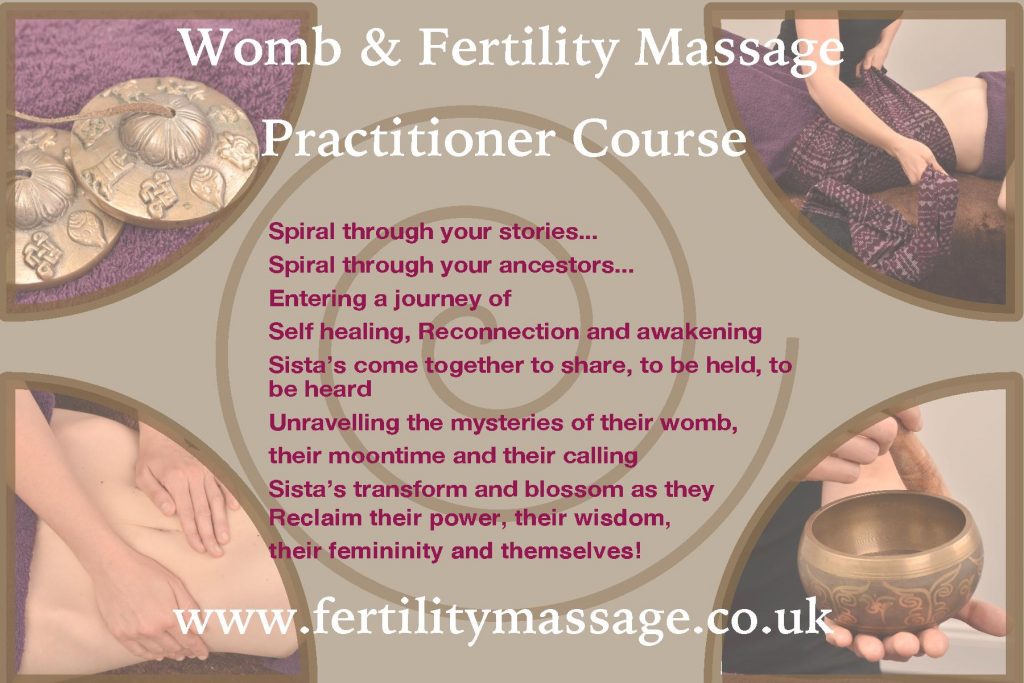 | Date | Venue | Course | Availability | Tutor(s) |
| --- | --- | --- | --- | --- |
| 26th February - 1st March | London | Practitioner Fertility Massage | FULLY BOOKED | Clare Spink |
| 24th - 27th March | Belgium | Practitioner Fertility Massage | 4 Spaces Available | Clare Spink |
| 21st - 24th May | nr. Lake Como, Italy | Residential Practitioner Fertility Massage | 4 Spaces available | Clare Spink |
| 11 - 14th June | Belfast | Practitioner Fertility Massage | 10 Spaces Available | Clare Spink |
| 30th June - 3rd July | Manchester | Practitioner Fertility Massage | 10 Spaces Available | Clare Spink |
| 8th - 11th October | London | Practitioner Fertility Massage | 4 Spaces available | Clare Spink |
| 17th -20th November | Portlaoise, Ireland | Practitioner Fertility Massage | 4 Spaces available | Clare Spink |
| Rescheduled to 11-14th April 2019 | Brighton | Practitioner Fertility Massage | 11 Spaces available | Andrea Clarke & Leora Leboff |
| 26th-29th November | Scotland | Practitioner Fertility Massage | 9 Spaces available | Rebecca Chisholm & Andrea Clarke |
| 1st - 4th December | Birmingham | Practitioner Fertility Massage | 1 space available | Clare Spink |
| 6th - 9th September | Burleigh Heads, Gold Coast, QLD, Australia | Practitioner Fertility Massage | 4 Spaces available | Nat Love |
| 6th-9th September | Fitzroy, Melbourne, VIC, Australia | Practitioner Fertility Massage | 6 Spaces Available | Carol Jones |
| 5th - 8th October | Wagga Wagga NSW | Practitioner Fertility Massage | 14 Spaces Available | Nat Love |
| 15th-18th October | Adelaide, SA, Australia | Practitioner Fertility Massage | 8 Spaces available | Edwina Taylor |
| | | | | |
BOOK YOUR PLACE ON A FERTILITY MASSAGE COURSE HERE
Participant Numbers
A minimum of 6 participants is required to host a course. Where the participants numbers are lower – the host will offer a full refund or transfer to another course venue or date.
UK 2018 Fees
£750 for 4 day course including examination
** Early Bird £675 when bookings & deposit received 3 months prior to commencement date
International Course fees will vary
Payment Plans are available, please feel free to discuss with me, as I am always happy to be flexible to help you!